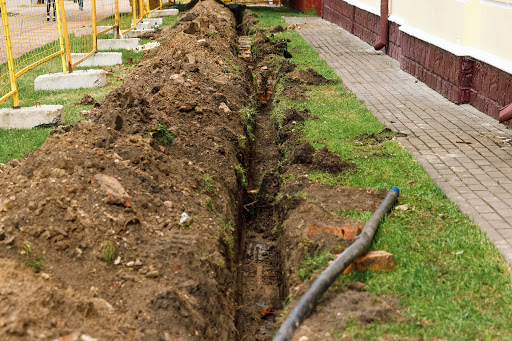 When your sewer pipe breaks, we know that you want it fixed as soon as possible and with minimal headache. If you're not familiar with trenchless sewer replacement, a relatively new process, it can help you to keep the repair costs low and make getting your business back to running quicker and more smoothly than with traditional replacement options. Let's walk through what it is so you can decide if it's a good fit for your situation.
What is Trenchless Sewer Replacement?
Trenchless sewer pipe replacement is a highly advanced way of replacing your pipes without digging. First, a trained technician will create a hole in the front and back of the section of pipe that needs to be replaced. Small sections will be cut out where a steel cable will be fed between the two holes. This cable will allow an attached metal tool to break and reconfigure the old pipe to the size of a new pipe, that's constructed of jointless black plastic. The metal tool that does this will also push the old pipe out so the new pipe has room.
What are the Two Main Techniques?
Pipe bursting uses a metal splitting head that's pulled through the pipe on an attached cable. This is used to burst the pipe apart to create room for the new pipe that it pulled in behind it.
Pipelining often requires a single access point, where resin and hardener are inserted into the pipe that needs to be replaced. Here, the materials are blown through the pipe and inflated. This allows the resin to harden that creates an internal relining of the old pipe, rather than bursting the old one. If your old pipe has collapsed, this method is not as feasible as bursting.

Both techniques yield similarly sturdy and reliable results but depending on the initial state of repair, one may be preferable over the other.
What are the Benefits?
It often saves you money. Traditional sewer replacement options that require you to dig can incur heavy costs, including costs of having to tear up the necessary land, which often runs underneath landscaping and other trees, driveways, and sometimes city-owned property. While sometimes the trenchless process may cost more than traditional sewer replacement, if you factor in the cost of the additional restorative work, such as paving over a driveway again, it may still be cheaper overall.
It's much more efficient. The process of replacing the pipe usually takes only a few hours and the entire process with the remaining cleanup often takes less than a day or two. This compared to the exhaustive time associated with having to dig extensively and repair the uprooted land is much shorter. Furthermore, if you have to keep your business closed while repairs occur, this means that you are losing money and potential customers the longer the replacement process takes.

However, if the break occurs in a pipe that's closer to the surface or is underneath a stretch of land without many barriers, such as a tree or utility line, then it may be quicker to just replace the pipe traditionally.
It is more resistant to breaks in the long run. Because trenchless sewer replacement introduces a pipe without joints, it makes it more resistant to leaks and also for tree root interference, which protects it against future replacement work for much longer than traditional methods.
We are always seeking better solutions to make our clients' sewer fixes easier on them and their wallets. Trenchless sewer technology can often reduce the cleanup time and costs usually associated with a pipe replacement. Contact us today if you have any questions. All County Sewer and Drain Line NJ is committed to serving our customers with the right expertise and advice they need!